LISBON CENTRAL SCHOOL
Learning-Caring-Sharing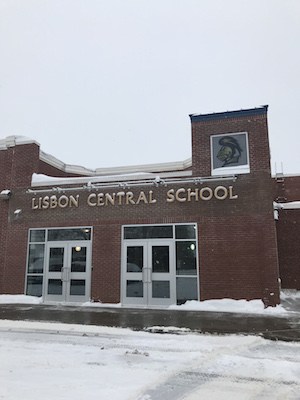 DISTRICT MISSION
The mission of the Lisbon Central School is to be a resource for ensuring the academic, cultural, and social development of community members.
Our school provides an environment which is secure, stimulating, and nurturing. The curriculum provides the prerequisite skills for a successful personal and professional career, delivered by a staff committed to caring and excellence. Our result is productive members of society who are able to maximize their potential in an ever-changing world.
DEMOGRAPHICS
13 Acre Campus

92 Mile Radius

4200 District Residents
ACADEMICS
Electives in English, math, science, social studies, technology, art, and music

A modern facility on a single campus of 13 acres, including competition- level playing fields, and wooded cross country trails

22 Extra-curricular activities, 19 varsity, junior varsity and modified athletic teams

Smaller class sizes than the most elite private schools

21st century technology and computer access for every student

Test results among the highest in New York State

Highly qualified teachers giving all the support students need to succeed

Full-day kindergarten and Half-day Pre-k

A school Physician Assistant for diagnosis and treatment through Claxton-Hepburn

Distance Learning, Video Conferencing, Data and Telecommunication Lines

Extra help and support from teachers that are always available, including an ESL teacher
GEOGRAPHY
Lisbon Central School District is located in Lisbon, NY in St. Lawrence County. The north town line is marked by the St. Lawrence River, which is the international border with Canada, in the Province of Ontario. St. Lawrence County is the largest county in New York State and is comprised of a rural mix of farms, forests, and small towns.
RECREATION
The Adirondack Mountain State Park, six million acres wide, is within a thirty minute drive. While New York City, Albany, Montreal, Ottawa, and Burlington are all within a day's trip away as well. Recreational activities and opportunities on the St. Lawrence, Grasse, and Raquette Rivers are numerous. There are also many parks, beaches, walking trails, marinas, and boat launches in and around Lisbon. Alexandria Bay, Clayton and the 1000 islands are just up the St. Lawrence River, and are great places to learn about the history of Upstate New York.
COMMUNITY
In a beautiful rural setting, just an hour from Ottawa and Montreal, the District includes a population of 4200 residents covering 92 miles of peaceful river valley. Lisbon Central School District has a vibrant partnership with the community, which has a high interest in academics, the arts, and athletics. The District embraces an educational philosophy that supports the values of a democratic society and prepares students for higher education and meaningful life work. The District emphasizes skills for personal health, respect of self and others, decision-making, and a love of learning.